But how, exactly, will we remember this date? As the day Mitt Romney blithely handed the presidency to the Democrats? As the day the insane Christians suddenly ceased to be politically relevant? Or simply as the day the 2008 election cycle shifted from merely
fascinating
to
hilarious
? I know!
All of the above
. Below is an in-progress poll from the New! Redesigned!
One News Now
: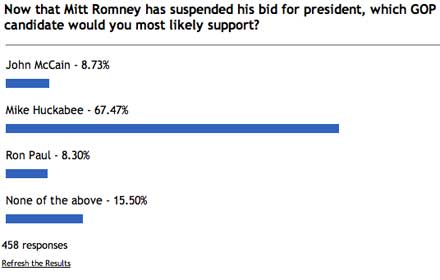 OMG, this is so much fun!
EDIT: On a totally different, completely unrelated note, just in case you've been away from the internets and haven't heard,
I'm f**king Matt Damon
.