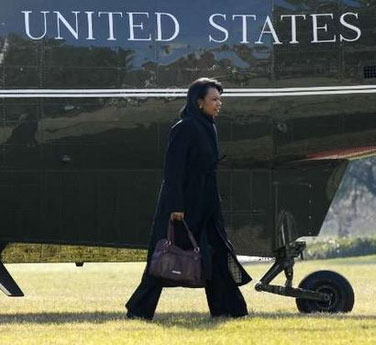 U.S. Secretary of State Condoleezza Rice returns via helicopter with President George W. Bush from a weekend visit at Camp David to the White House in Washington February 3, 2008. REUTERS/Jonathan Ernst (UNITED STATES)
OK, as distressing as Condi's uncoordinated bag is, don't let it distract you. And it is bad, isn't it? I mean... she's got the all-black thing going on, and that bag is just so resolutely brown! Maybe it's just a trick of the light and it really is black?
Oops, see? I got distracted! Resist it! But anyway, yay, Condi got to go to Camp David again this weekend! She just follows George around like a puppy, doesn't she? And yesterday you could just tell she was pleased as punch to be sitting next to him as he presented his $100 Gazilion budget: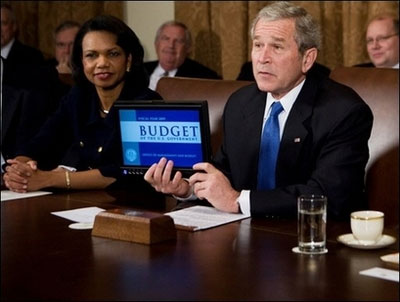 (AFP)
Please remind yourself that this is what passes for "conservative" these days, and wonder no longer why McCain, somehow, is now called "liberal" by the GOP's two right wings*. 'Cause if it's Bush, the reasoning goes, it's conservative! Never you mind past definitions! So if it's anti-Bush, it's obviously commie/pinko/liberal. Didn't you ever take logic class? Did you pass? OK, that's why you're having trouble following this. Try another one: we don't torture, so if we do it, it isn't torture! See? It's easy once you get the hang of it.
But Condi... oh, Condi, they're saying mean things about you again, and today that "The Commission" book hits the stores, so it's only going to get worse. The
latest leaked bits
concern the characterization of Condi as a wayward teenager who will do anything just to be George's best buddy, as so plainly displayed in the photos above.
*Why do people have such a hard time with this simple concept? We've all gotten so accustomed to the hoary old idea that each party has a "moderate" side and a "radical" side that we forget that it may not be true. The GOP has two radical fringes: the nutty Christians and the anti-government radicals (better known as the Neocons). Neither should really be considered "conservative" by the now old-fashioned use of the term. While it's true that George Bush managed to combine them in an unholy stew, it's looking like those days are over, especially when an old really conservative warhorse like McCain is now referred to, nonsensically, as "moderate."