Such as
Laura Bush with draperies
. Lots and lots of draperies:
October 22, 2007. REUTERS/Kamran Jebreili/Pool

But this one was the big surprise, an event covered
here
in which we all giggled as Larry Downing tried to look up Madame Secretary's skirt: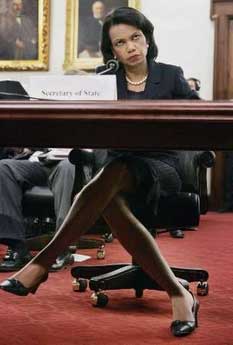 March 21, 2007. REUTERS/Larry Downing
Hmmm... they didn't pick
my personal favorite
, a masterpiece by Molly Reilly. But Downing, along with his cohort Yuri Gripas, is truly one of the most talented of the Condirazzi (and Cheneyrazzi!). Click on the "Larry Downing" tag for tons of fun with more of his provocative, sometimes hilarious work!