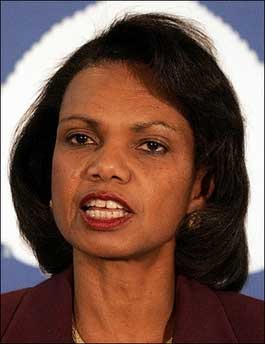 (AFP/File/Tim Sloan)

Ha, ha! No, it was really this thing:
Secretary of State Condoleezza Rice addresses the Aspen Institute in Washington, Monday, Dec. 3, 2007. The event is part of day-long first session of a U.S.-Palestinian public-private partnership to support educational, economic opportunities for the Palestinian people. (AP Photo/Lawrence Jackson)
No fresh Madame Secretary sightings today! I'm sure it's a hectic Condicising day in preparation for her big African Adventure tomorrow. Cross your fingers for good photo-ops! We've seriously been getting too many matching armchairs and dueling podiums lately. You know what I'd like to see this trip, and I think we will? I want to see the
surrounding yourself with a protective cloud of adorable children
photo-op. You remember,
Karen Hughes' old favorite
! Oh, I'm just going to be crushed if Condi goes all the way to Africa and doesn't have pretty photo-ops.