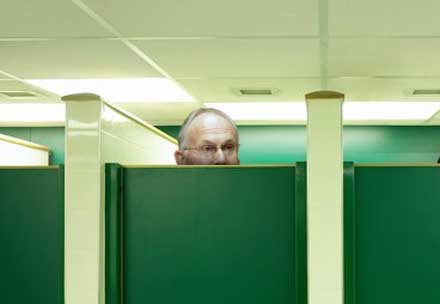 So anyway, public sex activist Larry Craig is nipping out of town (great idea!) to represent the forces of evil at some global warming todo in Bali. Sounds like fun! But is Bali a good
vacation
work destination for the sexuality-challenged senator? Signs point to yes!
From
OutTraveler.com
:
"Being gay in Bali is still a very private affair," says Four Seasons public relations director Putu Indrawati. Homosexuality is not illegal, but it is not part of the social fabric of tradition. While many gay Balinese are pressured to marry, they often pursue same-sex relationships. A strong gay expat community has also evolved in Denpasar and around Kuta, although long-term open gay relationships between Balinese and non-Balinese are still rare.
Sounds like he'll fit right in!
From
Utopia-Asia.com
:
Friendly encounters may lead to a chance to get better acquainted, but you are likely to be disappointed if you arrive with the expectation of finding a holiday boyfriend. Knowing a little Indonesian, and the gentle art of teasing and flirting, will go a long way towards making friends.
I believe Larry's mastery of foot tapping and other coy, flirtatious gestures will serve him well!
But what about those pesky homofascist activists who are so totally unfairly causing Larry so much strife lately? According to
GlobalGayz.com
, they aren't a problem in Bali:
There are no gay organizations, no gay publications...
Wow! Sounds like the senator couldn't have possibly picked a more appropriate spot for a lovely escape! But will they comprehend the complexities of Craig's particular domestic status? Let's just say that awaiting him are a people who understand him perfectly. Not only is it not unusual for the hairdressers there to have wives, it's
de rigueur
:
These straight guys as well as their gay peers are held in the tight grip of a tradition that can hardly be flaunted: marriage. It is a rare person, male or female, who can resist the insistent force from within one's family and friend's to take on a wife and make "new people" as a waiter at Q Bar told me one evening. At 21 he was living away from his small-village hometown in the north of Bali. He was clearly confused about his future; he didn't want to marry but he thought he might have to. "Parents want my wife. I cannot be free," he said bowing his head of silky black hair. "But I don't think about that now."
Like I said, they understand Larry
perfectly
.
UPDATE: Sorry, but neither squirt.org nor cruisingforsex.com list any cruisy toilets in the area (I checked).