First lady Laura Bush greets French President Nicolas Sarkozy, Tuesday, Nov. 6, 2007, as he arrives for a social dinner at the White House in Washington. (AP Photo/Ron Edmonds)
It was a busy Lauraday today! Now an important administration official, undersecretary of state Laura Bush, just tonight, had a simply scrumptious do for dreamy
Kosey
. I hope he isn't being naughty and wearing Italian couture again! Laura looks divine, and was treated like a queen by the charmingly obsequious frog: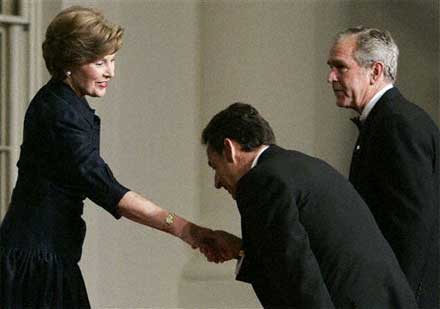 Oh, behave! Earlier today, she did something boring that resulted in a nevertheless charmingly Magritte-like photo-op:
First lady Laura Bush speaks after touring President Lincoln's Cottage at the Soldiers' Home, seen on photograph rear, in Washington, Tuesday, Nov. 6, 2007. After a seven year restoration, Lincoln's cottage, which was the Camp David of its day, will be open to the public on Feb. 18, 2008, offering a never-before-seen view of Abraham Lincoln's presidency and family life. (AP Photo/Charles Dharapak)
I love that picture! She almost looks real!