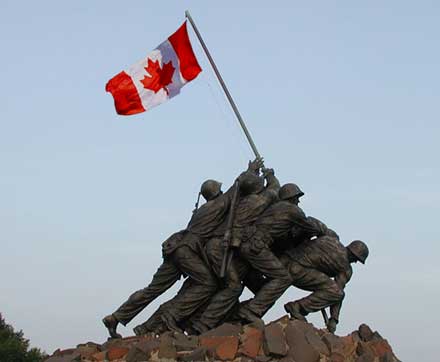 The
good folks of Herouxville, Quebec
(presumably the locale for Comment Le Grinch a Volé Noel) want all the A-rabs who are thinking of moving there to know that they are most certainly welcome, but please, no hand grenades in li'l Mohammed's lunch box and stop killing and/or mutilating the gals:
"We wish to inform these new arrivals that the way of life which they abandoned when they left their countries of origin cannot be recreated here," said the declaration, which makes clear women are allowed to drive, vote, dance, write checks, dress how they want, work and own property.

"Therefore we consider it completely outside these norms to ... kill women by stoning them in public, burning them alive, burning them with acid, circumcising them etc."



...



The Herouxville regulations say girls and boys can exercise together and people should only be allowed to cover their faces at Halloween. Children must not take weapons to school, it adds, although the Supreme Court of Canada has already ruled that Sikh boys have the right to carry ceremonial daggers.
Oh Canada, it's so adorable when you try to imitate us.
My parents are Quebeckers but not Québécois, so I can assure you that I'm shocked --astounded!-- to hear that French Canadians can be so breezily bigoted.