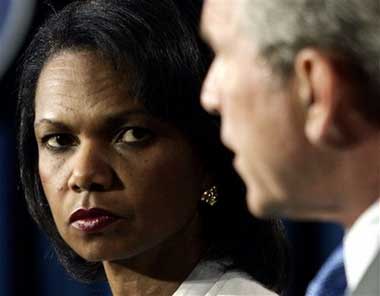 Secretary of State Condoleezza Rice , left, looks on as President Bush holds a news conference on Monday, Aug. 7, 2006 in Crawford, Texas. Bush and Secretary of State Condoleezza Rice spoke about the Mideast during a meeting with reporters at his Texas ranch. (AP Photo/Evan Vucci)
Ahhh, after a tough day of clearing brush at the ranch, Doctor Ferragamo sent out the Condibot to make a live (or lifelike, at least) appearance at a special presser. Because, you know, people totally want to know what Condi and her friends think about stuff. So they just fill the Condibot's output content with vague yet reassuring non-statements and the proper worshipful gaze annnnnnd she's good to go!
Also, if you've been reading too many
puff pieces
profiles of Condi in places like Time Magazine and the Washington Post, just stare at this picture for about 40 seconds to reverse the deleterious effects: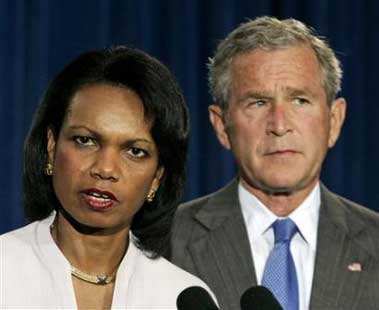 (Jason Reed/Reuters)
*The title of this post was shamelessly stolen from
this magnificent tribute
by the DC Urban Family kids to sparkletacular DC Council superstar Carol Schwartz.