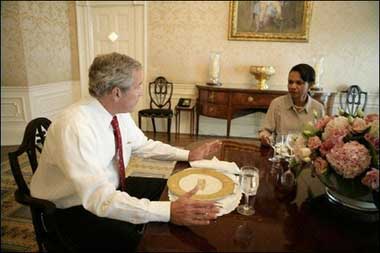 White House photograph shows US President George W. Bush discussing the Middle East situation with US Secretary of State Condoleezza Rice at the White House. Israel approved the expansion of its ground offensive in Lebanon, dashing hopes of an early end to the three-week old conflict despite a renewed international push for a ceasefire(AFP/White House/Eric Draper)
I don't know about you, but I feel a lot more comfortable with Condi back where she belongs.
I bet some of you are thinking, OMG, what's up with the empty table setting? Well isn't that just like you? Why are you so negative? That plate isn't empty, it's filled to overflowing with the most delicious invisible food money can buy. I mean, the next thing I know you're going to tell me that Condi's trip overseas was a complete waste of time, and we all know that isn't true.