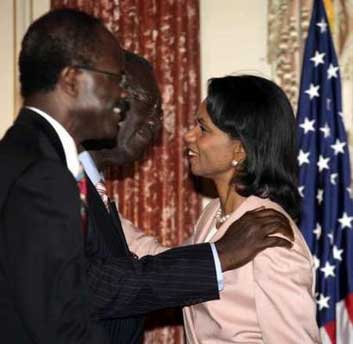 Ghana's President John Kufuor (2nd L) greets U.S. Secretary of State Condoleezza Rice as Ghana's Minister for Public Sector Reform Papa Kwesi Nduom (L) smiles after the Millennium Challenge Corporation Compact signing ceremony with the Republic of Ghana at the State Department in Washington August 1, 2006. The MCC, created in 2004, is a U.S. Government agency which distributes foreign aid to nations of a competitive basis. REUTERS/Yuri Gripas (UNITED STATES)
Oh, it's back to normal and just like this past week never happened, isn't it? Condi has returned to doing what she does best: meeting with relatively inconsequential world leaders, staging photo-ops and signing vague, meaningless documents. I mean, OMG, that's totally what she was hired for, OK?
Also, please note that sparklefave Yuri Gripas is the shutterbug on Condiduty today, and he always has the most magical way of capturing her at her Condiest. Once again, he gives us the greatest of gifts, a stunning close headshot of our favoritest diplotaunte EVER: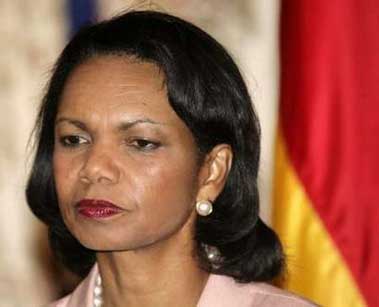 ...or is it? Have you been paying attention? Can you spot...
the Condibot?