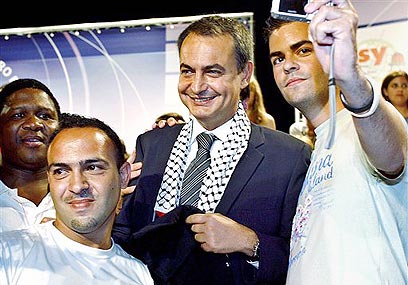 Oh sure, some of you read my posts about Condi's shoes, Ursula Plassnik's scarves, etc., and you think, "Tsk, that shallow pony. Fashion is meaningless. Accessories are meaningless. Scarves have nothing to do with diplomacy or politics."
And in response to my imaginary critics I say... Oh yeah? Then please explain to me why there's an explosive scarf scandal brewing in Spain? Hmm? Hmm?
See the picture above? That's Spanish Prime Minister Zapatero at an event on Wednesday. See the guy standing next to him? That's his
impromptu wardrobe consultant
:
A Palestinian participant placed the traditional Palestinian scarf, or kaffiyeh, on Zapatero's shoulders to be photographed with him.

Gustavo de Aristegui, spokesperson for the opposition conservative Popular Party (PP), called the photo "unfortunate" in the present Middle East situation. Sources of Zapatero's Socialist Party said he had not sought to be photographed in that way.

Aristegui accused the government of anti-Semitism and of applying a "double standard" in the Middle East.
See what I mean? Wear the wrong scarf and suddenly you're the next Hitler.

Oh, I feel so smug this morning.