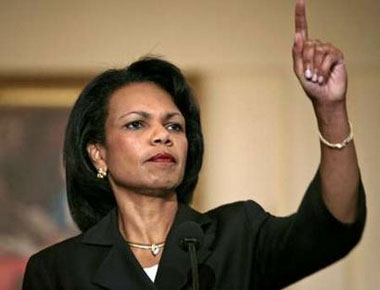 U.S. Secretary of State Condoleezza Rice gestures during a special news conference on Iran at the State Department in Washington May 31, 2006. The United States, in a major policy shift toward Iran, said on Wednesday it would join key European powers in talks with Tehran if it suspended its nuclear enrichment program. REUTERS/Yuri Gripas
And let's give credit where credit's due and a big two sparkley hooves up to AFP's Haraz N. Ghanbari for perfectly, perfectly framing La Rice with that painting in the background:
This guy could give Yuri Gripas a run for his money! Gosh, it's nice to have Condi back, isn't it?