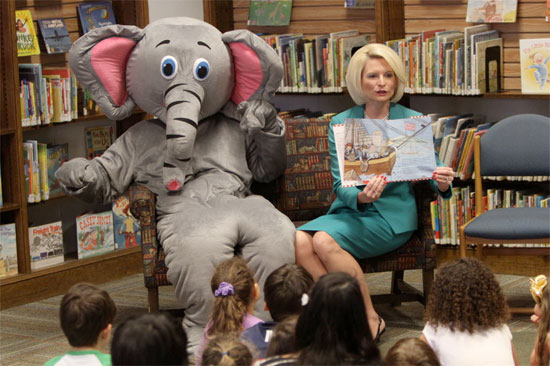 A little over a year ago, when I posted the above shot of Goddess Callista and her horrid Elephant Panto nightmare, I said, "Imagine what it would be like to wake up one morning and BE the staffer who knows that later that day, s/he would have to don a clammy, padded nylon ersatz elephant skin and then sit in a chair while Callista drones through Sweet Land of Liberty for the umpteenth time."
Well! It turns out that the intern in the pachyderm suit had
other things on his mind
:
A Republican presidential campaign worker who was charged this week with cyberstalking young women often bragged about about dressing up as "Ellis the Elephant," a character in Callista Gingrich's children's books who would appear during book signings with her husband, former Republican presidential candidate Newt Gingrich.
The FBI on Tuesday accused Adam Savader, a former George Washington University student who worked for Gingrich's presidential campaign and interned for Republican vice presidential nominee Paul Ryan, of sending 15 young women anonymous text messages saying he had nude pictures of them and that he would forward them to their family and friends if they did not send him more pictures.
Is anybody –anybody at all?– surprised by these juicy revelations about Ellis the Elephant's vulgar, secret life?
You've got to love the Gingriches: even the fictional characters they create for children end up having sex scandals.
UPDATE: Ew, ew, ew, the more I think about this, the grosser it gets. So Ellis the Elephant was kind of... well,
pervy
, right? So, do you think when he was on the road with the Gingriches, he kept the Ellis the Elephant costume in his motel room, and had girls over, and... and... and...
EW EW EW
Because you know he did.