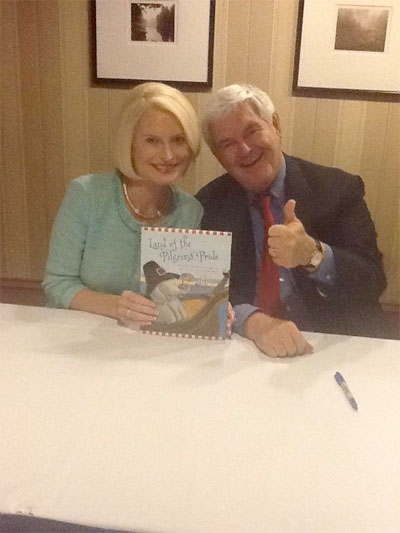 Oh, hey, hi! I'm back! And so's creepy Ellis the Elephant and his friend Callista Gingrich! Yay! What the world needs now is MOR CALLISTA.
So, yeah, Cally-Lou has published another inane book for kids about American Exceptionalism™ 'n' such, and this time her time traveling elephant (I never thought of this before, but I suppose this makes her books science fiction?) goes back to the pilgrims and the thirteen colonies, so neat.
One thing puzzles me: Ellis the Elephant, on the cover of the book, is wearing a pilgrim's hat (circa 1620) and waving an early American flag (circa 1777), which could really mess up the space-time continuum, if you think about it. Consider the poor pilgrims, totally confused by this ugly banner and ghastly talking beast. I believe they would have thought Ellis was an emissary of Satan and would have quickly dispatched the twee pachyderm and eaten him for Thanksgiving. Yum! Then they would have carved his tusks into scrimshaw and dedicated it to Jesus, the end.
Much more interesting story!