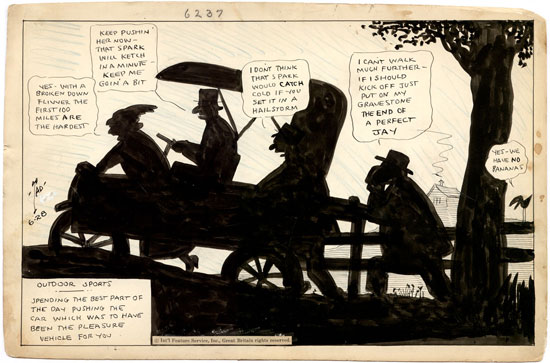 (Click for bigger.)
Resuming
Tadstravaganza
after a bit of a break. This is the original drawing for an early 1920s Outdoor Sports panel, and it follows the specs of all the other ones in my collection.
Whenever I see Tad using silhouettes and dot screens (indicated by the
non-repro blue
pencil), I assume he was up against a deadline and did a rushed job by employing shortcuts. That said, this is a wonderful drawing and a superb composition, even if it isn't necessarily "hilarious." The addition of the dot-screen gray tone must have resulted in an unusually atmospheric drawing for Dorgan. It's also a great reminder that early automobiles were basically wagons with flimsy motors. I'm sure that period readers would have found it outrageous that a woman was helping to push the vehicle.
I'm frustrated by my inability (so far) to securely date this drawing (two memos and an engraving order, which would have been dated, have all been torn off the verso), and here is why:
Tad is often credited for popularizing the phrase
yes, we have no bananas
, but the various resources I've found on the web are
contradictory
and
muddled
. Like other catch-phrases credited to him, it is possible, even probable, that he didn't invent the phrase himself, but was responsible for spreading the meme nationwide, and it's safe to say that the song, which dates to 1922-3, would never have been written had it not been for Tad. This drawing very likely predates the song, but could it possibly be the first use of the phrase in print? I should be so lucky.
What I'll have to do is obtain microfilm (urrrrgh) of the
NY Evening Journal
from the good ol' Library of Congress to find out. The microfilm comes in two-month batches, so I've got quite a slog ahead of me. I'll let you know what I find!