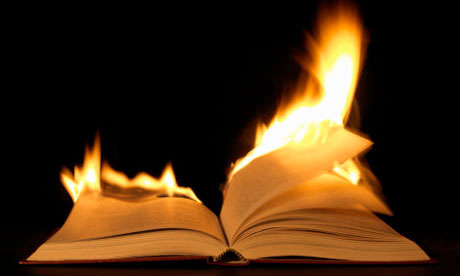 I worked briefly for Barnes and Noble in the 90s in their B. Dalton store in San Diego's garish Horton Plaza. For some reason, celebrities were drawn to this dinky store, and I met a lot of well-known authors in my short time working there. One day, Ray Bradbury (R.I.P.) came in the shop, and... it didn't really go very well.
I noticed a somewhat elderly gentleman kind of aimlessly wandering through the store, so I asked him if I could be of assistance. He said, "You sell my books here." I asked him which books those might be, and he declared, "My name is Ray Bradbury." (So that's step one: fail to recognize the world-famous author.) I then mortified the beloved scribe further by thoughtlessly offering, "Oh! I used to love your stuff when I was a kid!" (Step two: imply the author's work is juvenile, something you have outgrown.) Then, for some reason, perhaps in an attempt to be sympathetic after my dumb comments, I added, "You know, I really think
Star Trek: The Next Generation
ripped you off with their holodeck." (Step three: remind the author of people stealing his ideas.)
Ever had one of those days when you just can't seem to say anything right?