Tucson High School, 1983
You saw this coming, right? It was inevitable, what with all the reminiscing on this blog these days. Yes: that's my senior prom portrait, and yes, what you are witnessing is a real live New Romantic two-tone hairdo with long bangs down to my mouth. This is by far the most embarrassing thing I've ever posted, and that's saying something.
The event was a dud; a totally boring prom. My date was a very nice girl who I didn't really know very well. It was a situation where, for some reason, everybody I knew was all, like, "You have to take Estelle to the prom," and I was, like, "Duh, OK." I still don't know what was up with that. Were they trying to fix us up?
Couldn't they tell?
I mean, really.
Is that New Wave enough for you? No? OK, if you think that's not quite excruciating enough, here's a mercifully grainy shot from the year before, 1982: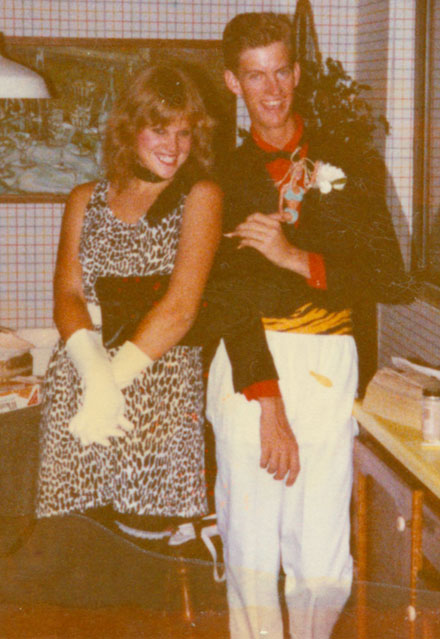 That year, my junior year, was a lot more fun because a bunch of us made an extra effort to dress as "kooky" as possible and be "outrageous." I'm wearing white pants, black tails, a red shirt, black tie, and a homemade tiger-striped cummerbund. My date, Katie (great, fantastic, fun girl!), is sporting a fab handmade leopard-print minidress. Keep in mind that this was Arizona in 1982, so this kind of thing wasn't exactly normal (if not radical), and lots of our fellow students were
pissed
at us. Really pissed! My friend Karina, a willowy beauty, literally wore a burlap sack with arm and head holes cut in it and brought a blatantly flamboyant gay guy from the U of A as her date. When the food was served, it was so bad that we ducked out to McDonald's and made a great show of bringing it back in. Somebody called us out for "disrespecting" this solemn rite, and we laughed right in their faces.
I have to admit, whenever I hear anybody moan about how awful their high school years were, I feel sorry for them.