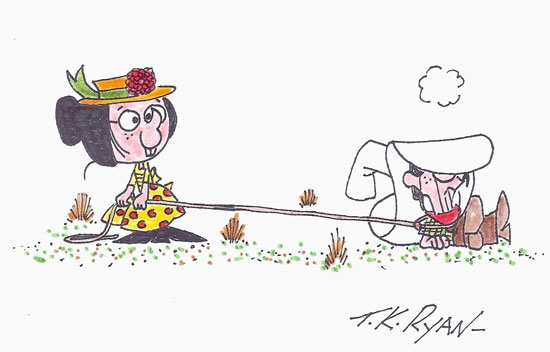 The parade of Tony Greco's fraudulent cartoon art atrocities continues! Above is an item described on Gallery on Baum's
ebay listing
as an "Original Tumbleweeds & Hildegarde Hamhocker drawing by T.K. Ryan on medium card stock 6 3/4" x 7 1/4". Done in ink and marker. Highly detailed!"
This one is laughably easy to debunk, because
Tumbleweeds creator T. K. Ryan
, unlike most of the artists represented by forged drawings in GoB's collection, is still alive. So I emailed him:
Mr. Ryan:

I came across a drawing attributed to you offered by a seller on eBay who is known to sell a lot of fakes. Can you tell me if the following is your work? [link]
To which he graciously replied:
thanks, Peter...yeah, that's a fake...best wishes, TKRyan
To quote Tony Greco himself, "
If one's a fake, they're all fake
," so I'm going to go ahead and declare all the other godawful Tumbleweeds sketches he's sold to happy, positive-feedback-leaving customers (
1
2
3
, etc.) to be forgeries as well.
And no offense to Mr. Ryan, but selling Tumbleweeds forgeries? That's
low
.
Finally, it should be obvious by now that the "T. K. Ryan", the "Bill Hanna", and the "Bushmiller" drawings I've exposed here
were all drawn by the same person
.
(Note: I just added a "Gallery on Baum" topic tag so that it's easy to track this story on PSP. I'm not done yet!)