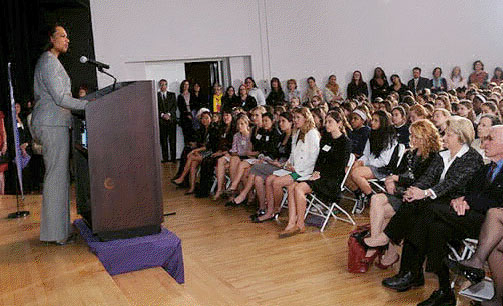 (Image via the Marlborough School)
A Pony Pal who wishes to remain anonymous reports that Condi visited her daughter's fancy school yesterday and... well, didn't make much of an impression:
My daughter's report to me, accompanied by eye roll, was that "she told us to follow our passion, Mom. Like we don't know that…"
Thrilled at the prospect of vicariously experiencing a teenager's boredom, I pressed for more details:
I wish I had something more relevant than 13-year-old sighing to report, but I'm afraid that my offspring's monosyllabic responses to my interrogation were underwhelming. Mostly that Condi told them to push themselves academically (which is rich, since Marlborough is arguably the most competitive girls' school west of the Mississippi) and that she abandoned her dream of being a concert pianist once she entered a political history class at UD. (Yeah, and she heard angels playing their harps, too, I'm guessing.) Nothing about her husband, W, nothing specific about her time at the State Department. In short, according to my daughter, nothing about what the girls were actually interested in hearing. Except the part where she said she doesn't like being referred to as black, or a woman, since that just divides people. That also got an eye roll from my daughter.
This, of course, is Condi's rote stand-up act, which never changes, and for which she was probably paid five figures. And it probably wasn't even the real Condi; I'm sure it was the labor-saving, Disneytronic Condibot, because if that thing isn't wound up now and again, it gets rusty and develops flat spots on its tape rollers.
I must say, however, that the "being referred to as black or female just divides people" part is an interesting philosophy.
Those school girls got off easy, though. It could have been
a lot worse
.