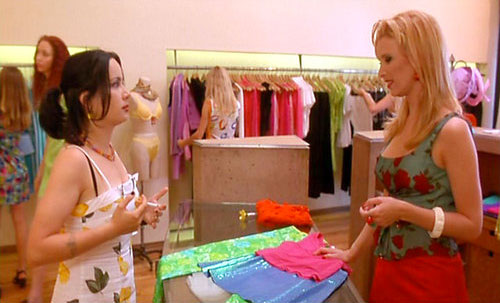 Oh! You will be
incensed!
Neiman Marcus is supposed to be discreet:
The sales clerks behind the jewelry counter at the Neiman Marcus here didn't watch Callista Gingrich's Friday speech at CPAC — but they could guess exactly what outfit she'd picked for the occasion.

"Was she wearing a red St. John's?" [yes] asked one eye-rolling employee, prompting a nearby co-worker to snicker and nod in agreement.
Can you believe it? A reporter from Buzzfeed, of all places,
spoke to "five different employees"
at Neiman's Tyson's Corner store! Heads will
ROLL
, Pony Pals, trust me.
We do find out that our favorite Queen of the Moon has a penchant for St. John's Knits. Heck, I could have told you that.
And finally, some advice from an insolent clerk:
"Somebody just needs to shake her up, put a comb through that hair, and take a cloth to her face" to remove her makeup, he said.

Still, for all his complaints, he said he hoped Gingrich wins the presidency: "Then I'd have access to the White House," he said.
Ha ha, not now!
And, of course, they gossip about Callista dressing older than her years, totally missing the point that this is intentional.