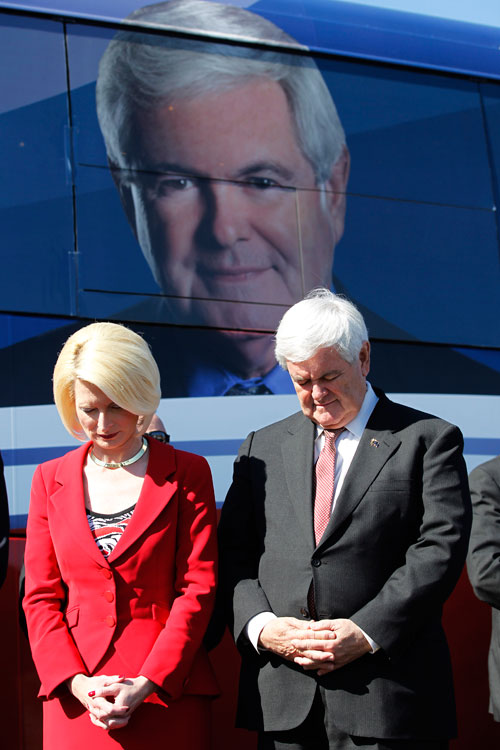 Republican presidential candidate, former House Speaker Newt Gingrich, with his wife Callista, bow their heads in prayer during a campaign event at the The Villages, Sunday, Jan. 29, 2012, in Lady Lake, Fla. (AP Photo/Matt Rourke)
Uh oh, whoops! I only have myself to blame for this, because just the other day I admonished My Queen that OMG, she had to, had to,
had to
get her roots done.
So perhaps in a panic because she knew she was going to have to bow her head in public today, she got the hairdo recharged and... well, see for yourself: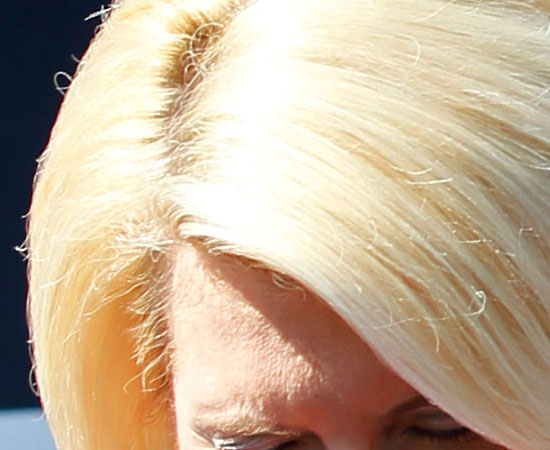 Instead of just touching up the roots, some slipshod (local?) hairdresser went wayyyy overboard and redyed the Platinum Orb in its entirety, and it is FRIED. Chemical burns are clearly evident. Judging from wire photos, the coiffure vandalism happened either yesterday afternoon/evening or (more likely) this morning.
If she doesn't take better care of the Golden Helmet, she's going to have to get a real, actual helmet.
Also! She wore the same suit (but with a different top and different outlandishly expensive necklace) two days in a row. Callista!