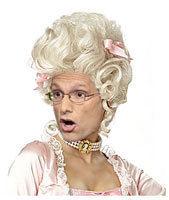 I've theorized before that sometimes Richard Cohen writes a column so dumb that even his bosses, accustomed as they are to Cohen's persistent dumbness, balk and say,
sheesh, we can't put this on our op-ed page
! These are the columns which end up getting dumped in the
Post
's "Post Partisan" blog where they can die unnoticed. Here's how
his latest
begins: "In my imagination, Eric Cantor wears a huge blonde wig. It has cute ringlets cascading from the side. A sexy beauty mark has been penciled into his adorable dimple and he talks in a falsetto, sometimes sexy, often not."
Um, yeah. So anyway, that's when I stopped reading.