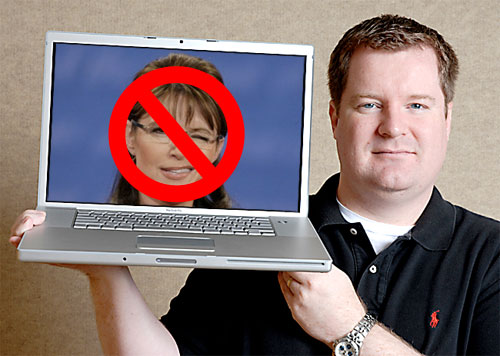 OMG, you have to actually go over to Red State and read Erick Erickson's
highly entertaining post
about Sarah Palin, because you will love it. Make no mistake: it's not that I think it's a
good
piece of writing; it's Erick Erickson after all*. Basically, Erick has just totally HAD IT with Palin's coy "will she or won't she run" schtick, and he wants it to stop. Also, he's upset that every time he writes about her, all her fans inundate his site with stupider and/or crazier comments than usual, and he wants that to stop, too. Shed a tear for Erick, won't you? Here's more of what I love about Erickson's rant:
The hypocrisy: Erickson decries Palin's fans for their attackiness and venom, which is kind of a pot calling the kettle black situation, no? Also, his list of Sarah Palin's shortcomings sounds an awful lot like a list of Erick Erickson's shortcomings. Then again, he's not running for office (yet).
The equivocating: the very, very negative post about Sarah and her fans includes the pussy phrases "There are many, many good people who support Sarah Palin" (can you hear the "But..." coming from a mile away?) and "Sarah Palin is a great person" (check the timetable, I think there's another "But..." due any second now).
Sarah Palin's fans compared to Scientologists more than once.
The comments! The positive comments demonstrate the same kind of loyalty to Erickson which he decries in Palin's fans. The negative comments from Palin fans easily prove Erickson's thesis. And then Erickson's fans point this out, and then Palin's fans call Erickson a sell-out/mainstream GOP shill, etc.
Next stop: Schadenfreude City!
*Can you believe that this guy is, like, SO totally influential? I don't get it either.