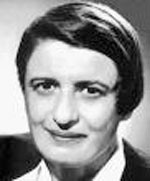 So what do you do when your boutique Conservative™ movie flops hard at the box office? Well, obviously you release it on DVD as quickly as possible. But what if you're afraid that won't go over so well either? Simple! Just convince the few people interested to buy it four times! And that is what the Atlas Shrugged people
have done
: they've released four slightly different DVDs of the film, but they really want you to buy them all. The four versions are the Special Edition, the Atlas Society Edition, the FreedomWorks edition, and the Reason (Magazine) Edition. All four editions contain the same version of the movie, but with ever-so-slightly different bonus features which don't seem terribly substantial to begin with, and could all probably fit on one DVD. Lucky Randites, however, are definitely going to want to buy the Collector's Box Set, which features all four DVDs of the same movie four times with their slightly different bonus features, or the Galt Collection, which features the same movie four times plus geegaws, or the Deluxe Galt Collection, which features the same movie four times plus slightly different geegaws.
This is textbook core-audience soaking, like when Marvel cynically puts out the same comic book with five different front covers. It's just free enterprise at work, people! You may also wish to purchase actual frames from the release prints (or "Cels" as they incorrectly call them), which are certain to be in pristine condition. There's also an overpriced aluminum bracelet (?) which is actually attractive, and a lapel pin of the film's ugly logo which I only like because it reminds me of the
old K-tel logo
. Oddly enough, trucker hats are not available, so they obviously don't know their audience very well.
I hope fans of the movie and/or Ayn Rand really do buy and wear those lapel pins, because it's hard to imagine a better warning sign (other than a Gadsden Flag draped over the shoulders).