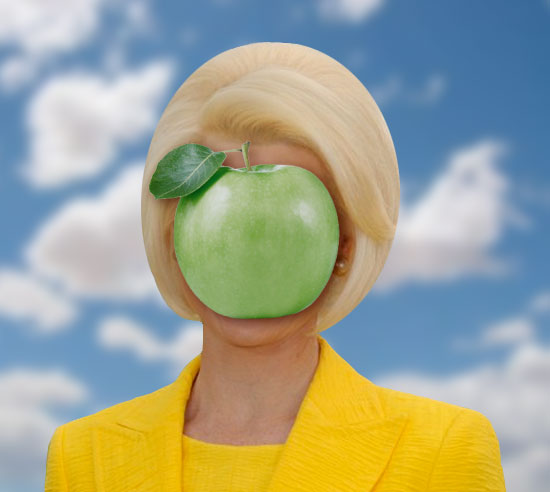 I knew you could do it, Callista! But again, as with every time the so-called "mainstream media"
tries to keep a straight face
while analyzing hairdos, there's always this apologetic tone:
Hair has struck again. Superficial, to be sure, it somehow manages to work its way into almost every campaign, and this season is no different.
Don't apologize, Beth of the
Boston Globe
! It's really OK to write about hairdos; people do it all the time! I've said it
over
and
over
again: hairdos matter. Salon issues destroyed John Edwards' political career long before the, you know, extramarital offspring 'n' such.
But anyway, after apologizing and justifying the importance of coiffures, Beth gets to the good stuff and asks some local hairdressers about Callista's supreme, magical hair-object:
"It takes at least 45 minutes to an hour to do that kind of blow-dry,'' said Clifford Bouvier, artistic director of Crew International, in Brookline. "She's really bleached out, and to smooth out over-processed hair you have to do a lot of work. You have to use products that put moisture back in the hair.''

Helena Cohen, owner of Ardan Medspa + Salon, in Wellesley, said that Gingrich's hair appears to be teased, and that would add time to the morning routine. "She does that bump on the top that gives it height.'' Time taken away from kissing babies: about 15 minutes.

Celebrity hair guru Sandy Poirier, at Shag, in South Boston, said Gingrich's hair might take as long as 90 minutes, although he couldn't be sure.
Now THAT is proper hairdo reporting.