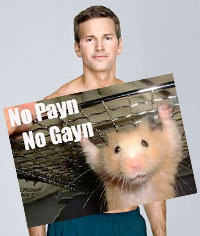 Easy answer: if I show the uncensored picture of abtacular, pectastic Aaron Schock from
Men's Health
, this will look like a GAY blog, and this isn't, strictly speaking, a GAY blog. In fact, I generally don't even use the word GAY on this blog, because, you know, children are reading it*, and it's
bad to use the word GAY
around impressionable children. Also, if I put that picture of him on this blog, it'll look like an advertisement for a GAY cruise line, or a GAY health club, or International Male (not strictly a GAY company).
Also, just because Aaron Schock is immaculately plucked, tweezed, sculpted and buffed to a high sheen, it doesn't mean he's GAY, just that he's ultra-narcissistic, which isn't a trait of young GAY single men at all, any more than wearing a
violet
gingham shirt with a
teal cloth belt
and "hustler white" jeans is a sign of GAYness.
Plus, as Salon
points out
, "Schock's politics are so trenchantly homophobic that no amount of muscle definition can blind us to this fact." So true! Because as we all know, nothing says "
I am not a GAY politician
" quite like being against all pro-GAY legislation.
So there you have it: there is no evidence that Aaron Schock is GAY, much less GAY GAY GAY GAY GAY OMG SO GAY.
You know who should interview not-GAY Aaron Schock about this injustice? Fox News'
Chad Pergram
.
*When I first started this blog, I
tried
to make it seem like a blog for kids, but wasn't able to maintain the tone. When I recently visited Arizona, my young nephews who, like all good children, use the word "gay" as a pejorative, said, "Your blog is funny," and I thought, "Uhhhhh."