This may be my favorite photo of Callista yet, veiled by a golden shower of fabulous glitter: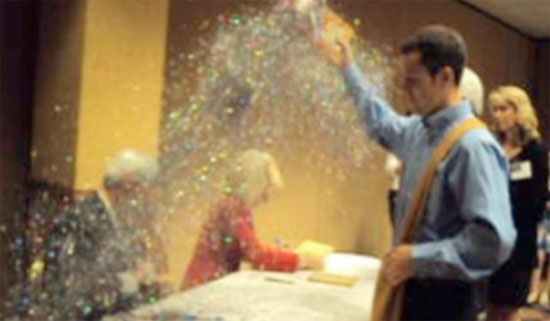 (AP Photo... I think?)
It happened in Minneapolis, and Glenn Beck's
The Blaze
, of all places, has the
best roundup
of all available photos and clips from the Youtubes.
At first I was outraged, because all the glitter was wasted on Newt, with hardly a speck touching Goddess Callista, and if anybody deserves to be constantly showered with glitter, it's her.
But then I realized that it would be superfluous, because Newt has already been
constantly showering
Callista with glitter in the form of
at least
half a million dollars (SCORE, Callista, you go!) in fabulous Tiffany jewelry over the last few years.
Now here's where I let you down, Pony Pals™: last night I spent hours poring over pics on Gingrich Productions website (why should last night be different from any other night?), hoping I'd be able to match up some of Callista's fab jewelry with items on Tiffany's online shop. Alas, I came up dry, none of her gorgeous necklaces matched any of their current offerings. It looks to me like most of the priciest stuff is on her fingers and wrists, and none of the zillions of photos offer a good enough look for identification.
What's interesting about the Tiffany story is that all that fancy jewelry was reported on Callista's expense reports. Why so much? And then the answer struck me, so obvious: Callista didn't buy all that bling for herself; she's a traditional gal, after all. Newt, obviously, purchased those things for her or at least gave her the green light to make the buys. And why does a man like Newt Gingrich give his wife of twenty years heaps of expensive baubles? That's right, Pony Pals™: he's been cheating on her like
crazy
, and she's been catching him, because we all know that Newt has never been capable of discretion, and he can't exactly divorce wife number three due to adultery when he's harboring the illusion that he still has a future in electoral politics, can he?
So Callista has him right where she wants him.
Oh, you screwed another staffer? Give me that special Tiffany credit card, bub, I'm going shopping!
You go, girl!