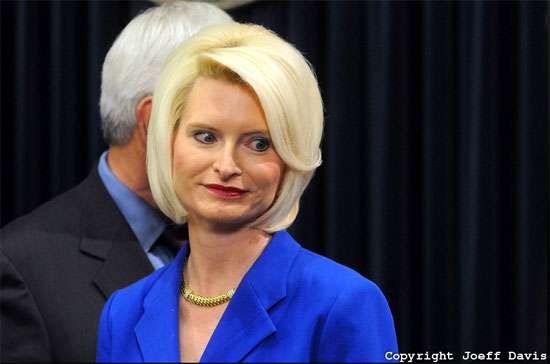 I've been getting shitloads of traffic lately, mainly thanks to everybody everywhere suddenly falling madly in love with Callista Gingrich. And who can blame them? Pony Pal Blue Gal's
got it bad
, and now there's even a
Fake Callista blog
! Welcome to the public sphere, girlfriend! The
New York Times
profile touched the whole thing off, and now it's Callista, Callista, Callista... everywhere! YAY.
My favorite thing right now is Mary Elizabeth Williams'
rumination
at Salon about how weird it is that Callista is only 45, but seems to have completely missed out on being part of her own generation.Williams helpfully points out that goddess Callista is the same age as, for instance, Liz Phair, haw. Indeed, Mrs. (NOT "Ms.") Gingrich does seem to be the Generation Xer least likely to have read a book by Douglas Coupland.
Are you on the Callista bandwagon yet? Hop on! And click on the topic tag below for more fun.
The only problem is that there isn't nearly enough new daily Callistaproduct to fill my needs. Hopefully that will change now with her new higher profile.