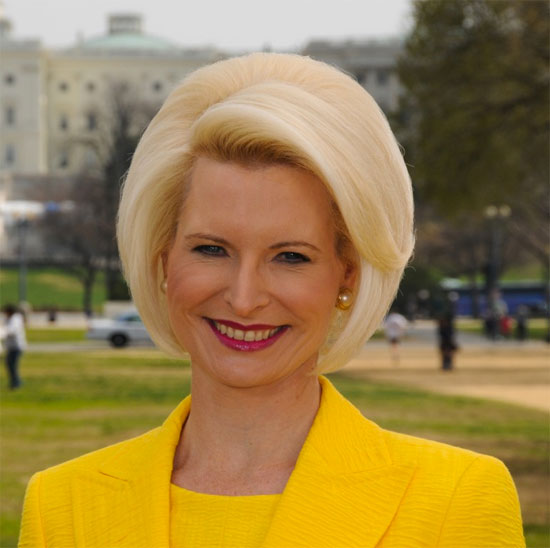 (All photos copyright © Callista Gingrich, Gingrich Productions)
So have you headed over to see Gingrich Productions'
website
yet (warning: loud auto-playing movie on the homepage)? Oh, are you in for a treat, because as you can see in the photo caption above, this is Callista's world, and Newt is just living in it, which is fantastic! The best part, obviously, is the
photo galleries
, because OMG, it is just Callista, Callista, Callista everywhere with her supercute outfits and special smile and adoring gazes. They just posted a new batch of pictures, and it is simply a relentless parade of Callista fashions and adorableness, which is what America needs right now. I think it's "behind the scenes" shots of Newt 'n' Cindy and pals filming something called "American Exceptionalism," which is presumably about how Newt 'n' Cindy and pals are exceptional Americans. Neat!
And, of course, the mighty hairdo. Take a look at it again, up above. Is that not the most incredible concoction? It's breathtaking. I love how it's constructed of two primary units: the bubble and the epic
swoosh
. That isn't hairdressing; that's
architecture
.
It's easy to get swept away on the topic of this epic coiffure, but let's not forget that Newt Gingrich himself is also the proud owner of quite an impressive hair structure: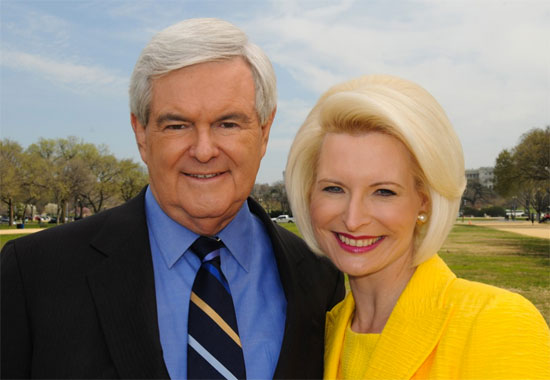 And in fact, Newt's hair conforms more perfectly to a spherical shape than even Callista's orbital 'do, although obviously on a smaller scale. Let's check the overlay: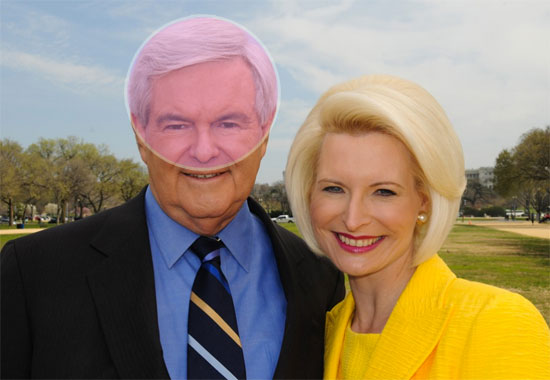 But enough about Newt. Callista! OMG so many good pictures. Here are the obvious best:
And remember when I enacted a strict "mean comments about Cindy McCain are forbidden" policy? It was controversial, but I might have to do it again for Callista. Because she is basically Queen of the Universe right now.