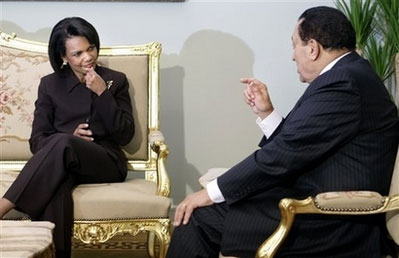 Condi? Remember her? OK, so she wrote
an op-ed piece
for the
Washington Post
today, all about the Egypts! Oh, it's boring; you don't want to read the whole thing. But I read it for you, so I can report that Condi's hard-hitting analysis of the future of Egypt is this:
I dunno. I guess we'll have to wait and see
.
Girl still throwing down the home truths. Our Condi hasn't lost her ability to use just, oh,
oodles
of words to say hardly anything at all.
Here's a reminder
of Condi's skillful handling of Egyptian diplomacy.