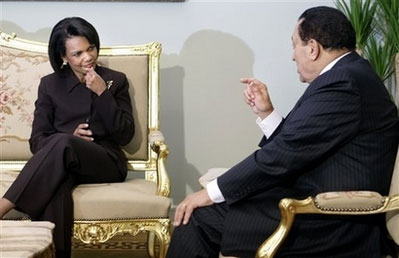 Egyptian President Hosni Mubarak, right, meets with US Secretary of State Condoleezza Rice at the Presidential palace in Cairo, Egypt, Tuesday, March 4, 2008. talks focused on Israeli-Palestinian peace talks.(AP Photo/Amr Nabil)
The funny thing, of course, is that when Condi shows up, everybody has to drop what they're doing and, you know, deal with her. Somebody has to alert the wire service photographers, arrange the matching armchairs, etc.
But her latest strategy is innovative, to be sure: simply call for "an end to violence"! It's just like calling for pizza delivery! I wonder if she's tried clicking her Manolos together three times?
Oh dear, Condi, I thought you had this all wrapped up after those talk thingies in Annapolis? C'mon, people, it's simple:
Rice said Monday a deal to end a six-decade Israel-Palestinian conflict is still possible before President Bush leaves office despite the recent violence.

She said she hoped all sides can get through the current difficulties and get back to negotiations.
Difficulties! They're just, you know, so totally difficult! Dang!