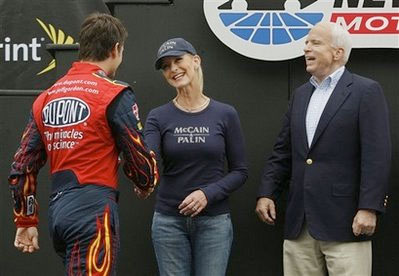 (PSP flashback to
09-14-08
: The McCains campaign at a NASCAR event)
I knew I shouldn't've read it! That thing at the Washington Post I linked to
this morning
? The one where the Bell Curve guy warns against the New Elite? OMG, it has been just melting my brain all day.
What kept nagging at me was the growing realization that this is a kinda new way to wage the "culture war." See, the old icons of the culture war, homos and abortions, have become a little too complicated: they're linked a little too strongly to the religious right, kids don't fall for them like their parents (or grandparents) do, and too many ordinary folks just don't see them as bêtes noires like they used to.
What Charles Murray, the author of yesterday's Washington Post outrage, and others of his ilk are doing is much more subtle than using gays, guns and fetuses as a rallying cry. The new enemy is The Elites, understood to mean big city liberals. Why does Murray care whether or not we'd be caught dead in Branson, Missouri, or dislike Harlequin Romances, or openly admit to having evangelical Christian friends? What does any of this matter?
Well, it matters because they are using these cultural stereotypes to send out a quasi-subliminal message to the people they're trying to convince: those things you like? The Elites
hate
those things, and if they remain in power they will take them away from you and replace them with those awful things The Elites like that you hate/don't understand. The Elites will come for your "Left Behind" books and replace them with esoteric biology journals; they will cancel your NASCAR events and replace them with ballet marathons and French film festivals; they will seize your pork rinds and cram arugula down your throats. Drew Carey on The Price is Right? The Elites will replace him with that guy... you know, that really gay guy on Will and Grace? Him.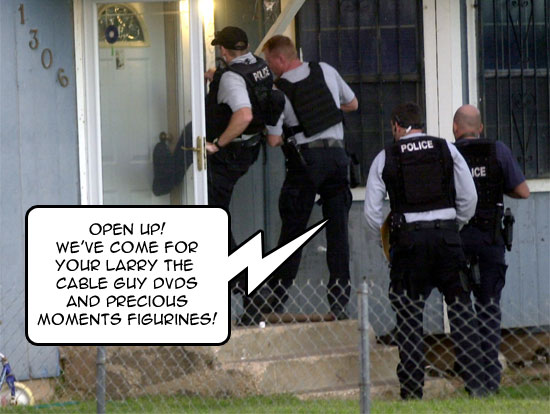 And, of course, it's all nonsense. NASCAR will continue to exist no matter how many Democrats are elected. What's fascinating, though, about this new "us versus them" strategy, especially as seen in Charles Murray's WaPo op-ed, is that all the scare-mongering is centered around entertainment preferences and recreational activities rather than the pulpit, the firing range, and the bedroom. It strikes me as very effective, because it takes a less "hot button" approach and personalizes the threat of "the other," and furthermore cleverly casts "the other" as pretty much anybody who was ever mean or ever snubbed or lectured the perceived victim of this insidious "new" threat. It really is the shallowest and most primitive form of politics ever, so I'm deeply impressed and fascinated.
Keep an eye open for this new kind of "I like what you like; they don't" politicking. It's so hot right now!