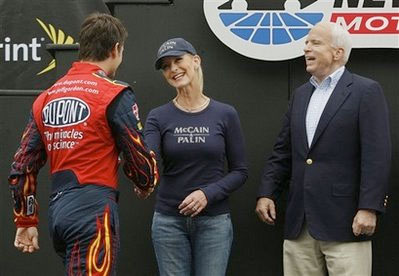 Republican presidential candidate Sen., John McCain, R-Ariz., watches as his wife Cindy shakes driver Jeff Gordon's hand before at the New Hampshire International Speedway Sunday, Sept. 14, 2008. (AP Photo/Stephan Savoia)
Oh, it's been days and days without our Cindy, and I've definitely been going through withdrawals. But look at this: Lady Penelope has adorably taken on the local customs of dress! So, so cute! Tantalizingly invisible in the photos is her choice of footware. Why doesn't the Associated Press have at least one Cindirazzi dedicated solely to this important information? This election isn't about issues, it isn't about biographies or ideologies or genealogies or whatever. It's about shoes, honey!
Oh, gosh, if it were only just about shoes. Tsk.
Anyway! Here's another great shot of Cindy today: