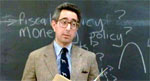 Oh,
OW.
Ben Stein, who you will recall is an absolutely ridiculous person, an immaculately conservative pundit with impeccable Nixonian credentials, looked upon Alaska's Joe Miller and, lo, found him lacking. The erstwhile game show host was somehow
given space
in the
Alaska Dispatch
to write one of the most delightfully mean things I've ever seen about a candidate:
Someone's been listening to "Send in the Clowns" a little too often. "Don't bother, they're here," is what keeps occurring to me. Only this is a dangerous, stupid clown. Time for him to go home and cool off.
Haw, coming from a goofball like Ben Stein, that's gotta sting.
Joe Miller: a dangerous, stupid clown.