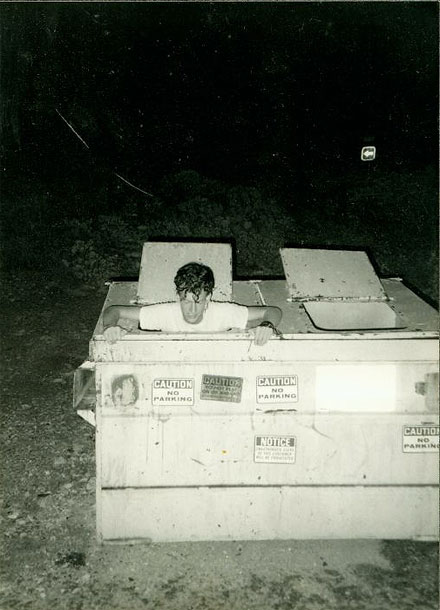 Do Not Play On or Around: Your teentastic host emerging from a dumpster at "The End of Alvernon," Tucson, ca. 1984-5 (photo probably by Sam Friedman or Jeff Farr).
It's true! I have every intention of taking a strongly Arizona-centric detour on this blog for at least the next several months. I want to make one thing clear: this is not about Arizona-bashing and certainly not from a standpoint of "what a dump; I'm so glad I moved away from there." Nothing could be further from the truth. This will not resemble, for instance, "The People of Walmart," a website I think is evil and horrible and makes me sad and angry (at the people who publish it). It also won't resemble
The New Republic
, which simply dismisses the state as a bad job and then washes its hands, thinking its work is done. To be honest, I can't really express a coherent opinion about the state because it's such an ingrown part of me that it would be foolish to pretend I could be objective. Arizona just is: there are things about it that are awful; things about it that are breathtaking; things about it that are peculiar and make you feel funny. But you can't make sense of it all unless you... oh, what the heck, you can't make sense of it all
period
, but it's still worth the attempt.
Photo by AC Huestis, click for bigger.
I have plenty of old ephemera and photographs I've taken and/or collected over the years, and I'm hoping to also feature more photos by Sparkle Sibling Andrew (see above and
here
). I hope other Arizona Pony Pals™ (
hint
, Nixie Bunny,
hint
) past and present will feel free to contribute as well.
So anyway, stay tuned for probably too much Arizona, because you may as well capitalize upon something you know. The place is getting a ton of press lately, and there's just such a "they don't get it" quality to it all, I know I can help! And by "help" I mean "muddle the waters more." Don't expect me to actually explain anything outright; think of it more as
color commentary
.
Above and below – two views of a very political and stylish encampment of elderly homeless at an abandoned gas station, 22nd Street and Park Avenue, Tucson, 1986. Click for bigger.
UPDATE: I think I'm going to go ahead and implement a Draconian™ "no simplistic Arizona-bashing comments" policy, because we've all already said "this new law sucks blah, blah, blah," so there's no reason for this boring stuff to get repeated and minutely varied endlessly on and on, OK? So if you comment something along the lines of
OMG, have you heard they're all racists because of new legislation?
I'm going to delete it.