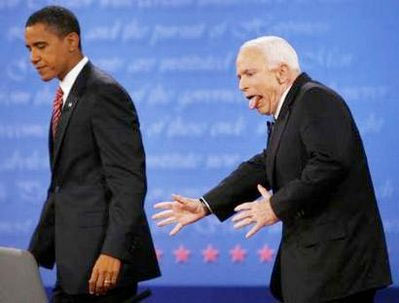 Though the Gila monster is venomous, its sluggish nature means that it represents little threat to humans.
As a former Arizonan, naturally I'm interested in the big McCain vs. Hayworth match. So much to dislike on both sides! Michael Gerson, in this morning's
Washington Post
,
tried in a cutesy way
to make the whole mess Arizona-relevant by roping in the local wildlife:
When Arizona's bitter Republican primary election arrives in August, it is likely to be 102 degrees in the shade, of which there is little. It is the kind of weather in which only the hearty and highly motivated venture outdoors -- Gila monsters and Tea Party activists. Which may not be good news for Sen. John McCain, who is generally disliked by the latter.
Just one thing, though, Michael: Gila monsters are mainly nocturnal. Whatever.
The rest of the Op-Ed is funny, because Gerson tries to paint Hayworth with the broadest, most horrible brush possible, while McCain... well, see if this sounds like our Walnuts to you:
At his best, McCain is precisely what a senator should be -- independent, passionate, unawed by power, unmoved by influence. He has quickened national debates on torture, the environment, immigration, military strategy in Iraq and Afghanistan, and the budget process.
Ha ha ha! OK, now
THAT
is hilarious.
And in other Arizona news, yes, the
draconian new immigration legislation
just passed, which more or less requires cops to constantly harass brown people because they don't get to do it enough already. Of course, it's all about checking immigration status, nothing more. My mother is still a Canadian citizen; think she'll get "carded" constantly? Think she'll get pulled over every time she drives? Of course not, because the whole entire point of this new law is to make Mexicans, specifically, leave the state, whether they're here legally or otherwise. This should have an interesting impact on the state's economy.
Oh, Arizona,
take off your rainbow shades
... and crush them into the dirt with the heel of your Tony Lama boots.