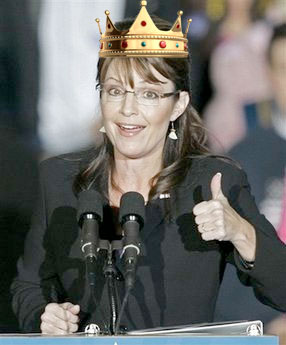 Did you read Sarah's
spirited defense
of
herself
the big Tea Party Convention™ yesterday in USA Today? No? That's OK, I read it for you.
First of all, the short piece contains conventionally structured sentences and no
made-up words
*, so chances are high that she didn't write it herself. But anyway, the byline and photo make it clear that these are at least Sarah Brand Thoughts.
My favorite part is when she defends the event's ludicrous ticket prices by saying that, hey, those who can't attend can watch her speech on the Facebook and the Twitters, so it's egalitarian after all. This is funny because the event organizers only conceded to allow this a couple of days ago; before, the event was totally, completely closed to non-attendees, including the evil non-Fox/non-Breitbart press.
The best news, though, is that Sarah uses the "editorial" as a way to publicize her involvement with future tea parties and rallies. Yay! This is how she'll regain some of that magic we saw during the election when Sarah dangerously whipped up crowds at McCain campaign events. Should be memorable! Due to her nearly complete lack of discipline, I'm sure there will be some... interesting pronouncements from La Palin at these confabs as she gets swept up in the excitement, so that'll keep us in chuckles well into the future.
Here's Sarah's tricky maneuver with which she'll have to contend: how is she going to reconcile her Queen of the Teabaggers status with her intent to campaign for McCain against JD Hayworth, ultra-"conservative" darling of Tea Party crowd?
My guess is that her appearances on behalf of McCain will be very, very low-key. Either way, though, it doesn't really matter, because her fans have never demanded anything even remotely resembling consistency from her.
Go Sarah!
*Note: it does, however, contain
the unforgivable phrase
.