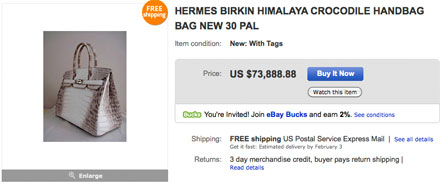 I had to roll my eyes at
dependably dumb Bob Greene
's latest column
at CNN.com
. This is one of the hackiest old warhorses of a theme in the hack columnist's cheaters' guide:
OMG, look! I found this outrageously expensive boutique item!
And we are supposed to share in his shock and outrage over, in this case, a really
really
costly Hermès bag.
Well, yes, I've heard Hermès makes expensive things! You could even say their reputation
impels
them to make expensive things.
Really, you have to read this stupid column, because Greene is playing dumb and acting like he's completely unaware of the existence of ludicrously pricey consumer goods, and I'm just not buying it, because he's flying back and forth between New York City and swanky Naples, Florida to do so. The faux-outrage and faux-out-of-itness is just the thing you'd expect from a faux-common man like Bob Greene.
But still, just wait until he finds out about Rolex watches.