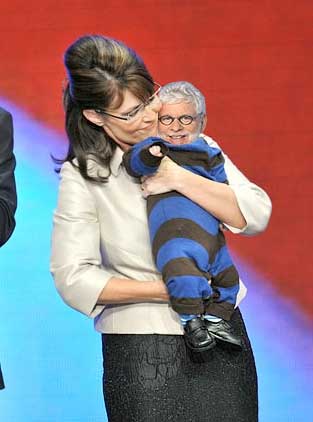 It's Tuesday,
Richard Cohen day
! This week's column is weird, because I agree with every last thing in it, and you probably will, too. What's noteworthy is just how badly composed it is even by our admittedly low standards for Cohen's writing.
First, Richard introduces us to the concept of "alternative reality" fiction, and then announces that he's going to give it a whirl: "Here is my contribution to the genre: Sarah Palin becomes president of the United States."
And then... well, no, that's it. That was his contribution. The rest of the column is filled with revelations of Sarah Palin's inadequacy and a rambling
have you heard? Republicans are in disarray
observation. This thing is so lightweight that I'm pretty sure Cohen composed it on his cell phone while sitting on the toilet. So we don't actually get to hear what would have happened if Sarah 'n' John had won; we'll have to wait for a less lazy writer to tackle that one*.
There is one tiny little thing that makes it hilarious:
Almost as interesting as Palin is South Carolina Gov. Mark Sanford. Never mind his affair. These things happen.
Haw,
these things happen
! They do, don't they, Richard?
*As will happen, inevitably. My version of "What if McCain/Palin had won?" would feature, like, John starting eight more wars and Sarah getting interviewed by
Ladies Home Journal
for two years straight.