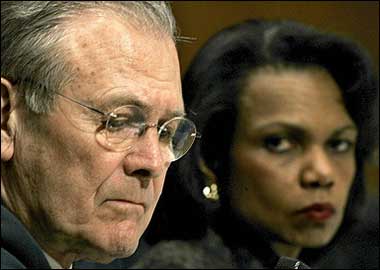 (AFP,
03-09-06
)
I recommend reading
Time
's profile of
Donald Rumsfeld in decline
, an excerpt from Brad Graham's new book, because it's so sad and funny. Mostly it's sad:
Rumsfeld wanted to be sure I saw the many letters of praise and kind words he had received following the announcement of his resignation. He had sorted the letters according to source — members of Congress, foreign dignitaries, U.S. military personnel, former associates, friends — and filed them in large, three-ring binders.
And what about Condi? Any bitterness? Oh my, yes:
Another longtime friend reported that Rumsfeld was not happy with how abruptly his removal had come about. A former subordinate who spent several days with Rumsfeld in Taos heard him fume about disagreements with other top administration officials, particularly Rice.
This, of course, doesn't tell us anything we didn't already note
at the time
. Let's hear Rummy complain about Condi some more:
Rumsfeld has ascribed much of the negative perception of him and the Bush administration to distorted media coverage. "The intellectual dishonesty on the part of the press is serious," he asserted. He groused about "a strong incentive to be negative and dramatic" that had infused much of the coverage. "It's a formula that works. It gets Pulitzers; it gets promotions; it gets name identification on the front page above the fold."

Part of the formula, Rumsfeld added, involved pillorying him along with Bush and Cheney but sparing Powell and Rice. As an example, he noted accusations that Bush and Cheney had lied about Saddam Hussein's possession of weapons of mass destruction in making the case for the invasion of Iraq. "They never say Colin Powell lied," Rumsfeld asserted. "They don't say Condi lied."
Hmm, well, I said Condi lied all the time, but whatever.