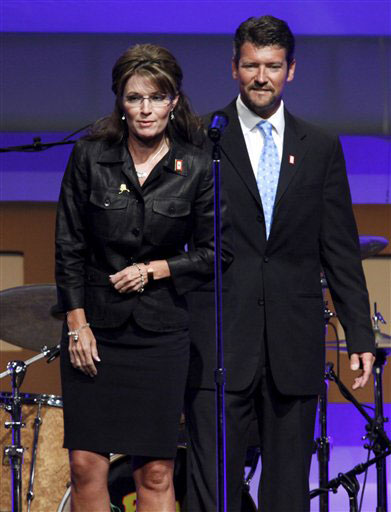 Republican Alaska Gov. Sarah Palin arrives at a Republican congressional fundraiser, with her husband Todd Palin, Monday, June 8, 2009, in Washington. (AP Photo/Manuel Balce Ceneta)
There it is, the big deal. It was merely a fundraiser, but OMG did Team Palin milk it for all it's worth. After all the back-and-forth, the brain-dead Alaskan spokesmodel got a lot more press for merely showing up than she ever would have by actually talking. And if you think about it, this is a really good strategy because opening her mouth and putting together intelligible sounds is not her strong suit. But did they plan it that way? I doubt it;
to paraphrase
former Coca Cola CEO Donald Keough,
They're not that smart but they are that dumb
.
So! OK, here:
So there you have it. It was obviously awesome.
Also in Sarahnews today, somebody is going to write a whole book on how unfairly she was treated in the 2008 campaign and how she's so great and everything. And would you be surprised to learn that the somebody who is writing this book is an
editor for the Weekly Standard
? Not that Bill Kristol
assigned
him to write it or anything. I'm sure it'll be great.