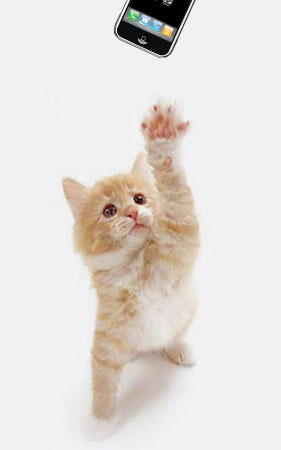 Here's a bit of PSP trivia: I have never owned a cell phone. OMG, wild, right?
But finally I decided that the new iPhone is just such a desirable object that I had to get one. Unfortunately I then found myself practically begging for somebody to take my money!
First I went to ATT's web site to order the service. Now, here's another bit of PSP trivia: I don't have a credit card; haven't since college! I do have a debit card, of course, but I simply don't use credit. So at the ATT site, they did a "credit check" and found me wanting, and decided that the iPhone wasn't for me. So I "spoke" to an online rep, and the conversation went something like this:
Me: Hi, I want to get an iPhone, but failed your credit check.
Rep: Sorry, then you are ineligible for the service.
Me: Really? Just like that? But I was going to pay with a debit card.
Rep: Sorry, if you fail the credit check, you're ineligible.
Me: Seriously? What if I pre-pay for the whole two-year plan?
Rep: We don't offer that.
Basically: no iPhone for me!
This morning, I decided to actually call ATT on the phone and find out if this was really true. And, of course, it isn't. The person on the phone said I could, indeed, get iPhone service, but I'd have to go to an ATT store and would probably have to tender a $750 deposit (!!) as a punishment for being sensible with my money and not buying things I can't afford.
That seems a bit steep, but OK. iPhone for me!
So I jumped on the Metro (scary!) and went all the way to the Apple Store in Pentagon City to purchase the fabled device. Imagine my chagrin when I arrived to discover that they're all out of them and have no clue when they'll be getting more.
No iPhone for me.
Dear ATT and Apple: I would love to divvy up many, many hundreds of dollars between the two of you, but I've gotta say, you sure aren't making it easy.
UPDATE: Lord phone and savior achieved.