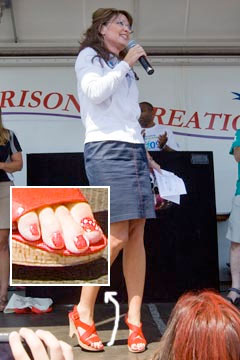 Oh fun, ha ha, Stylelist wrote a
little piece
about Sarah Palin's funky toenail polish. Uh oh, don't look now, here come the Anger Bears, exploding with outrage:
Whats wrong with you people, you got more to worry about then Palin's toes. YOUR FREEDOM, YOUR CHILDRENS FREEDOM and He doesn't even make a good Muslim letting his wife do the things she does.
MY GOD YOU LIBERIALS HAVE NOTHING TO DO BUT NOW COMPLAIN ABOUT PALINS TOE NAIL POLISH. YOU ARE REALLY A BUNCH OF BORED STUPID PEOPLE WHO CANNOT PUT 2 SENTENCES TOGETHER AND VOTE IN A MUSLIM WHO IS RUINING OUR COUNTRY. WHY DON'T YOU DEMOCRAPS ALL GO BACK TO SCHOOL AND LEARN WHAT IS IMPORTANT IN LIFE INSTEAD OF USELESS COMPLAINING ABOUT PEOPLE WHO YOU COULD NOT BE THE TRACKS ON HER UNDERWEAR . YOU ARE SOOO LOW STUPID UNEDUCATED IDIOTS LIKE YOUR PRESIDENT WHO CANNOT TALK WITHOUT IT BEING WRITTEN DOWN IN FRONT OF HIM
Obama is Destroying America and needs to be stopped. Who ever heard of so many Cazrs in This day and age, and in America? whats up with that?
The news media has gone completely insane. They have kissed OBAMAs ass so much they can't tell the truth anymore. They will slander SARAH PALIN like they are told to do. She is a threat to them. If she wins the presidency, a lot of liers will go to jail for slander. They put this idiot in office and now see what he is doing. He was taught to hate the United States and he learned his lesson well. He is out to kill this country starting with the ECONOMY and being merciful to his ISLAMIC pals in jail. LORD help us.
All these media eyes on Sarah Palin's toenails.... but not a one looking at Obama's original birth certificate
OK, OK, I didn't mean this blog to turn into the posting-amusingly-psychotic-Republican-blog-comments blog, but please keep in mind that the fury displayed above is in response to
a tiny article about Sarah Palin's toenail polish
.
We're all doomed.