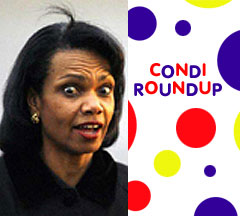 Team Condi
didn't like the way
the NY Times reported on her testy
little confrontation
with that uppity Stanford co-ed:
As this statement from Ms. Rice made clear, the tactic used was legal not because the president authorized it; rather, the president sought and received legal opinion indicating that it was legal before he authorized it.
OK, so it's not that anything the president wants to do is legal, it's that anything the president has declared legal is legal. Got it.