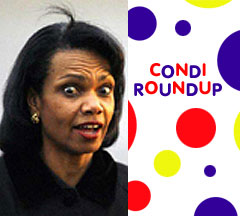 Condi thought she'd just hang at the dorms at Stanford for a while, you know, to chat and "chill" with the students. And then the students got all mean and asked her about torture 'n' stuff and OMG, it's all just so unnecessary. Tsk. This just
sounds so awkward
:
Even in World War II, as we faced Nazi Germany -- probably the greatest threat that America has ever faced -- even then...

With all due respect, Nazi Germany never attacked the homeland of the United States.

No, but they bombed our allies...

No. Just a second. Three thousand Americans died in the Twin Towers and the Pentagon.

500,000 died in World War II, and yet we did not torture the prisoners of war.*

And we didn't torture anybody here either. Alright?

We tortured them in Guantanamo Bay.

No, no dear, you're wrong. Alright. You're wrong. We did not torture anyone. And Guantanamo Bay, by the way, was considered a model "medium security prison" by representatives of the Organization of Security and Cooperation in Europe who went there to see it. Did you know that?

Were they present for the interrogations?

No.
Condi's defense in a nutshell is 1.
We didn't torture, so whatever it is we did, it therefore could not have been torture,
and 2.

Anything the President of the United States wants to do is automatically legal

.
Well, that pretty much covers it. Catchy!
*PSP glittering hooves award to the student who stated this point so bluntly.