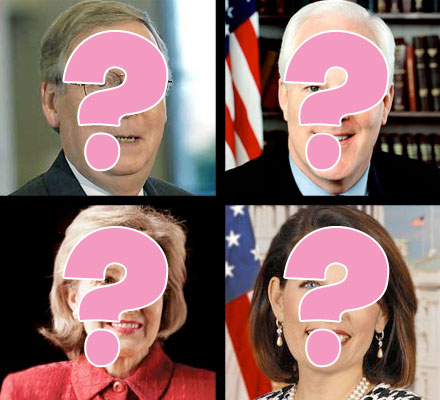 The above illustration is strictly a fanciful jest!
Yum, delicious gossip from a Secret Pony Pal™ reveals that everyone is freaking out and dreading the upcoming release of the documentary feature
Outrage
at the
Tribeca Film Festival
on April 24. Why? Well, the film is directed by Kirby Dick, who got plenty of attention for the excellent
This Film Is Not Yet Rated
in 2006, so this is probably a polished and persuasive film. The subject matter is one of my favorites: "conservative" homophobes who like to do a little hairdressing on the side, if you know what I mean, and it sounds like Mr. Dick has turned it into a real horror show. Best of all, the film apparently contains a brand new, shiny and candy-like "substantiated outing."
In other words,
somebody
is about to get booted out of the closet.
Controversial! "The politicals on all sides are poised with their pronouncements," Secret Pony Pal™ writes. Best of all, those killjoys at GLAAD and HRC are miffed, putting their hands on their hips, tisking, etc. Secret Pony Pal™ continues:

"GLAAD and HRC are stammering over how to receive the film. [T]he movie consumed over half of GLAAD's Leadership Team conference call yesterday afternoon--seems lots of national people are very flustered about the film upsetting the agenda...pity!"
Pity, indeed! They don't like that naughty, mean-queen outing stuff. It can totally cast an awkward pall over an otherwise delightful cocktail party. But I can't wait! Yay! Who will it be? Will it finally be Mitch? [EDIT: Lindsey?] I hope it's not just tired old David Dreier again.