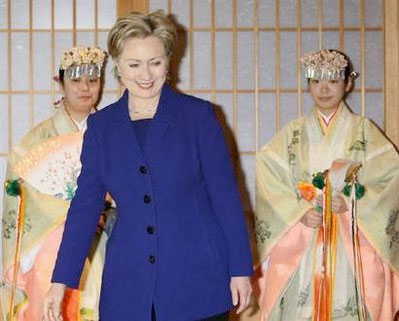 U.S. Secretary of State Hillary Clinton is pictured with shrine maidens during her visit to Meiji Shrine in Tokyo February 17, 2009. REUTERS/Pool
Such a cute idea! From now on, when Hillary travels to a foreign land, instead of being presented with matching armchairs for photo-ops, she'll be presented with adorable matching
locals
in quaint native garb. The Condi years really are over!
Ha, ha, I'm just kidding. Of
course
they had some matching armchairs:
Also, you seriously cannot even fathom how many pictures have been taken of Hillary on this trip. I saw the top photo pop up this morning, and by this afternoon, it was already something like 15 pages in on Yahoo News photos. There will be no drought of Hillaryproduct.