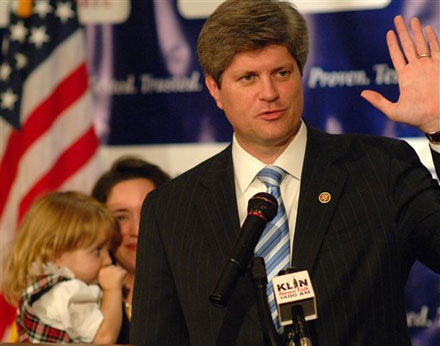 (November 4, 2008. All photos AP)
He's really giving Blago a run for his money, hairdo-wise (what a great word!), in the above shot. Yay, let's look at more:
That's February, 2006, evidently when he had his dandruff under better control. But wait, how about this in November of the same year:
Is it just the lighting, or has Fortenberry's coiffure gotten significantly
browner
than before?
This next one, from June 2004, I'm just throwing in to make you love him more:
So I don't know, the hair seems to go back and forth from more brown to more gray. Doesn't that imply dye-jobs? Doesn't that support my theory that Fortenberry's hair is real and lustrous and fabulous and totally not a wig, just remarkably wig-like? I'm sticking to that story until somebody (*AHEM* congressional staff Pony Pals!) demonstrates otherwise.