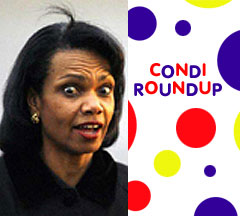 You'll be thrilled to learn that Random House/Crown has rewarded America's Princess Diplomat with a
$2.5 million (at least!) contract
for three books. There will be a memoir about her Bush years, a book about her family, and a Readers' Digest condensed version of the latter for the kiddies. The Associated Press reports:
"Rice will combine candid narrative and acute analysis to tell the story of her time in the White House and as America's top diplomat, and her role in protecting American security and shaping foreign policy during the extraordinary period from 2001-2009," according to a statement issued Sunday by Crown, a division of Random House Inc. Crown also published then-Sen. Barack Obama's "The Audacity of Hope."
Protecting America's security? I must have missed that part. But yay for Condi! Think of all the shoes! Think of all the promotional appearances!
UPDATE: The teaser in the print edition of the
Washington Post
is headlined "Tell All?" Oh, please, c'mon... you know better than that, Posties.