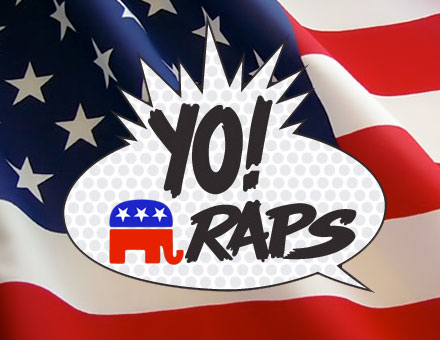 Let's travel into the future and see how Michael Steele's attempt to bring the Republican message to "
urban-suburban hip-hop settings
" works out:
04-15-09: Physician warns participants in upcoming break dancing demonstration that he cannot guarantee the integrity of their hip replacements.
06-18-09: Peggy Noonan's live presentation of Ronald Reagan speeches set to break-beats is met with booing and jeers from the audience, but becomes a YouTube sensation nevertheless.
07-11-10: Newt Gingrich appears on Meet the Press wearing a yellow Fila track suit with matching Tommy Gear doo-rag.
10-23-10: Hairdresser informs Bobby Jindal that if he doesn't stop fidgeting, he'll have to live with half a head of cornrows.
01-30-11: George Will listens to

Straight Outta Compton

three times through but is "unable to fathom its metaphors."
05-15-11: Waiter at the Four Seasons discreetly informs Mary Matalin that she has pâté de foie gras stuck to her custom "diamond grillz".
01-08-12: GOP pundits debate whether or not Lil' Bow Wow's victory in their New Hampshire primary is a good thing.
10-18-12: Controversy erupts when

Politico

reveals that candidate Sarah Palin's hot pants and tube tops were purchased with RNC funds.